StabiliTrak is a unique safety feature that comes standard in all General Motors vehicles. It works by monitoring the speed and direction of each wheel, and adjusts the power to each wheel accordingly if it senses any instability or drifting. This helps drivers maintain control of their vehicle while driving on slippery surfaces or during tight turns. If StabiliTrak malfunctions, it can be serviced at an authorized GM dealer who will inspect your system for any faults and replace its components as needed.
How does StabiliTrak work?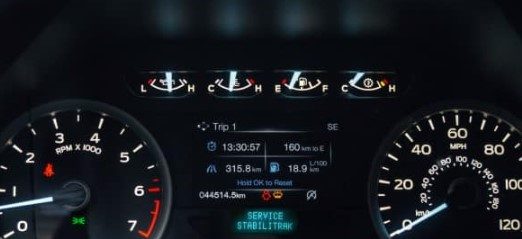 Driving on slippery roads can be a hazardous experience for any driver. One wrong move and the car could quickly spin out of control, potentially leading to an accident. To address this issue, automakers have developed Traction Control Systems (TCS) that are designed to prevent vehicles from swerving and correct their position in the event of a skid or spinout. However, GM has taken this concept one step further with StabiliTrak: an advanced system designed to give drivers greater control over their vehicle in all driving conditions.
Since its introduction by GM in 1996, Electronic Stability Control systems such as StabiliTrak have become standard safety features for all new cars sold in Canada, the United States and European Union nations since 2007. In essence, it is always "on" and monitoring your driving; when it senses that your car is slipping or sliding due to wet roads or sharp corners its sensors will activate brakes on certain wheels while diverting engine power to stop you from spinning out of control. For example if you hit a patch of black ice during a sharp turn your vehicle may seem unresponsive even though you're using full steering wheel input; at this point StabiliTrak will sense what's happening and take corrective action before disengaging once it feels you have regained control again – ensuring maximum stability and safety while minimizing potential damage caused by an accident.
Ultimately, having access to state-of-the-art traction technology like StabiliTrak makes any road trip safer than ever before: whether driving on wet surfaces or winding curves through remote areas – there's no reason why anyone should take unnecessary risks behind the wheel anymore when such sophisticated tools are available for everyday use! With its unseen yet invaluable presence stabilizing every drive along slippery terrain – Stabilitrak truly is one of greatest inventions for modern automotive engineering today!
What causes StabiliTrak light to come on?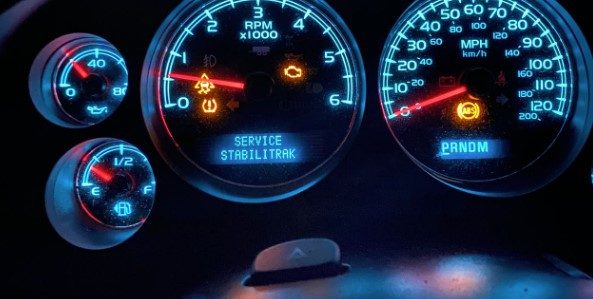 If the StabiliTrak light is illuminated on a vehicle, then it means that the electronically-controlled system is not functioning properly and cannot provide any safety features while driving. To ensure safe operation of your vehicle, you should take it in for maintenance or repairs as soon as possible if this service light is on.
Common problems related to StabiliTrak malfunctions can include faulty sensors, bad wiring, and malfunctioning powertrain control modules. It is essential that these issues are addressed quickly and professionally by an experienced mechanic before further damage can occur to your car's safety systems.
Noticeable symptoms
If your vehicle is exhibiting signs of a StabiliTrak system malfunction, it is important to take action immediately. Signs that the system may be having problems include hard shifting, loss of power, and warning lights appearing on the dashboard. Additionally, other related issues such as ABS braking difficulties and engine oil pressure light activation can occur in tandem with StabiliTrak malfunctions. Hard shifting in particular can be hazardous to your car and cause undue stress on the transmission if not addressed quickly.
It is critical to have any potential StabiliTrak issue professionally inspected before attempting repairs yourself. Doing so will help ensure both the safety and longevity of your vehicle's performance capabilities for many miles down the road.
What it means when the service StabiliTrak light comes on?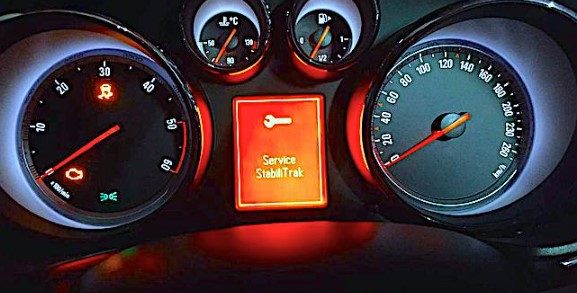 Driving with the StabiliTrak light on can be a serious safety risk as it means you won't have access to this important feature when needed. It is therefore important to address any issues that may be causing the warning to stay on. The most common problem is typically a faulty input sensor, but there could also be an issue with the powertrain control module (PCM) or bad wiring and connections.
The vehicle has a range of sensors including wheel speed, steering angle and rate of turn sensors which all need to be checked for proper functioning if the StabiliTrak service light stays illuminated in your car. If these are found to not be operating correctly then they will need replacing either at a local repair shop or dealer.
Similarly, if electrical wiring inside your vehicle has become brittle or damaged over time then this can cause problems as well leading to activation of the service light. A professional technician should check any potential wiring issues before they start working on other components of the system.
Ultimately, driving with StabiliTraks disabled increases your risk while behind the wheel so it's important that you take care of any related maintenance needs quickly and efficiently in order keep yourself safe out on roads
What happens when StabiliTrak is off?
Driving without StabiliTrak activated should be avoided in most situations, as the system is active and needs to be engaged for it to assist while driving. However, there can be some occasions where turning off StabiliTrak may help you out of a tricky situation. When deactivated, the sensors won't activate and will allow your wheels to slip and slide regardless of the road condition. This could come in handy if you find yourself stuck in mud or snow; it also makes navigating snow-covered roads easier too. Once you are back on solid ground, make sure to reactivate StabiliTrak before continuing your journey so that its safety features are ready when needed again.
How to reset the service StabiliTrak light?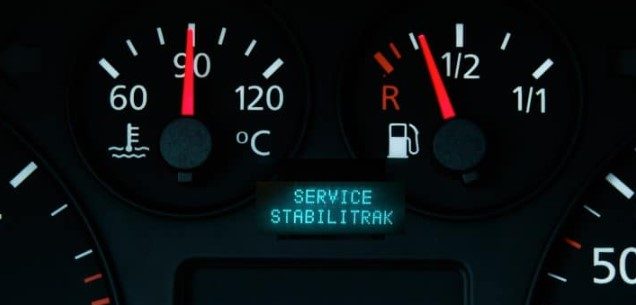 When the StabiliTrak service light activates on your vehicle it may be due to a computer glitch or software failure. To reset the light, you can do so without having to visit a local automotive shop by following these steps:
Turn your vehicle on
Turn the steering wheel clockwise
If the light turns off, no service is needed
If the light stays on, turn off vehicle and wait 15 seconds before turning it back on again
If after doing this twice, if the service StabiliTrak light remains on then your vehicle will need service
What if the light stays on?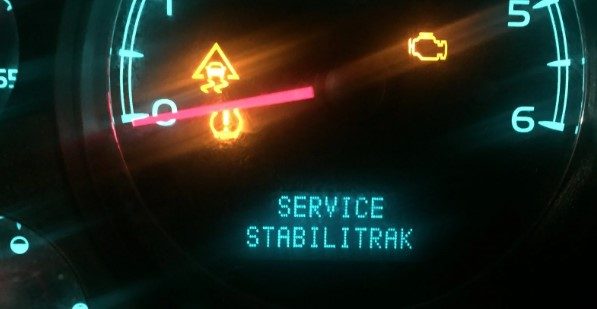 If the StabiliTrak reset attempt fails and the light remains on, it is likely that there may be a malfunction of some sort. From faulty sensors to bad wiring, a professional service should be sought in order to determine what is causing the issue. Only then can any necessary repairs be made to ensure that your vehicle operates safely and efficiently.
Does StabiliTrak affect transmission?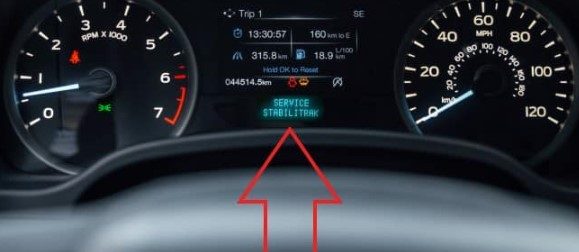 Vehicles with StabiliTrak can experience hard shifting or hesitating transmissions, which can cause the vehicle to jerk between gears or slip when changing gears. Over time, this type of wear and tear can be extremely damaging to the transmission and result in costly repairs for the owner. It is important that owners of vehicles equipped with StabiliTrak are aware of these issues so they can take action as soon as possible if they notice any signs of a malfunctioning transmission.