In this blog post, we will explore the meaning of some of the most common Freightliner dash warning lights. From low air pressure to engine malfunction, we'll help you decode what these lights mean and what you should do if you see them.
Have you ever been driving down the highway and noticed a strange light on your dashboard? If you have, chances are you were driving a Freightliner. Freightliner is one of the leading commercial truck manufacturers in North America, and they're known for their quality and durability. However, like all vehicles, Freightliner can have their fair share of problems.
Freightliner Dashboard Warning Lights and Color Identification
As you probably know, the Freightliner Dashboard has a lot of warning lights and each one has a different meaning. Here is a quick guide to help you identify what each color means:
Red: This is the most serious type of warning and usually indicates that there is a problem with the engine or brakes. If you see a red light, you should pull over as soon as possible and check for any problems.
Yellow: A yellow light means that there is a potential problem but it is not as serious as a red light. You should still be cautious and maybe get the truck checked out by a mechanic if you see this light.
Green: Green means everything is working correctly.
Orange: Orange usually indicates that something needs to be serviced or repaired soon. For example, if your oil level is low, you will see an orange light on the dashboard.
What are Common Freightliner Master Warning Lights?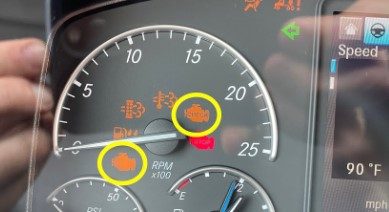 When a warning light appears on your Freightliner's dash, it indicates that the truck's computer has detected an issue somewhere in the vehicle. The severity of the problem will determine which dash warning light comes on. Some common Freightliner master warning lights are:
Amber Engine Warning Light: This light comes on when there is a problem with the engine, such as low oil pressure or over-heating.
Red Brake Warning Light: This light means that there is a problem with the truck's brakes, such as low brake fluid levels or a faulty brake sensor.
Amber Airbag Warning Light: This means that there is an issue with the airbags, such as a malfunctioning sensor.
Red Battery Light: This light indicates that the battery is not charging properly. If this light comes on, you should pull over and call for roadside assistance.
Red Oil Pressure Light: This light indicates that the oil pressure is low. If this light comes on, you should pull over and call for roadside assistance.
If any of these Freightliner master warning lights come on, it is important to have the truck inspected by a qualified technician as soon as possible to avoid further damage to the vehicle.
Freightliner dash warning lights are designed to notify the driver of potential problems with the truck. While some of these lights may be nothing more than an annoyance, others could indicate a serious problem that needs to be addressed immediately. It is important for every driver to be familiar with the meanings of each warning light so that they can take appropriate action when one is illuminated on their dashboard.