The Mini Cooper is a great car, but it has its share of warning lights, like all cars. If you're unfamiliar with them, these symbols can be confusing – and even a bit scary. In this blog post, we'll examine the meaning of some of the most common Mini Cooper triangle warning light symbols. We'll also explain what you should do if you see one of these lights come on while driving. So if you're curious about what those triangle symbols mean, read on!
🚀Recommended article: Mini Cooper Warning Lights Symbols
What Do the Triangle Warning Light Symbols Mean?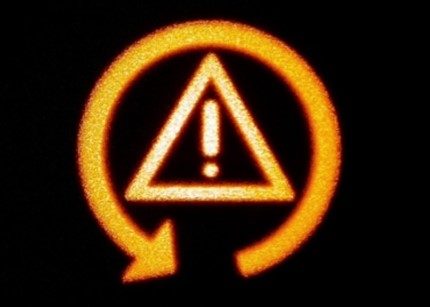 Several triangles are warning light symbols that can appear on the dash of your Mini Cooper. Here's what they mean:
Traction Control System (TCS) Warning Light:

This light comes on when the TCS is disabled, or there is a problem with the system. If the light flashes, the TCS tries to correct a slip condition.

Tire Pressure Monitoring System (TPMS) Warning Light:

This light comes on when there is a problem with the tire pressure monitoring system. It could be a faulty sensor or low tire pressure.

Electronic Stability Control (ESC) Off Light:

This light comes on when the ESC system is turned off. The ESC system helps stabilize the car in slippery conditions, so you'll want to turn it back on immediately.

Brake System Warning Light:

This light comes on when there is a problem with the brake system, such as low brake fluid levels or worn brake pads. Getting this checked out immediately is essential, as it could impact your ability to stop the car safely.
🚨You may be interested in: Mini Cooper Yellow Triangle Warning Light Symbols
When Should You Check Your Mini Cooper Warning Lights?

Most importantly, your Mini Cooper warning lights should come on when you start your car. However, a few may come on while you're driving. Knowing what it means and what to do is essential if any warning lights come on while going. Here is a list of when you should check your Mini Cooper warning lights:
When starting your car: Always check your Mini Cooper warning lights before igniting the key. This will allow you to see if any bulbs are burned out or if anything looks amiss.
While driving: If any of your Mini Cooper warning lights come on while you're going, it's essential to pull over as soon as possible and investigate the issue.
After an accident: Even if your car appears to be okay after an accident, it's essential to have it checked out by a professional. Any damage, no matter how small, could result in one of your warning lights coming on.
How to Fix Mini Cooper Triangle Warning Light?

If your Mini Cooper has a triangle warning light on the dash, there are a few things you can do to fix it. First, check the owner's manual to see what the triangle warning light means. If it's simply a low-fuel indicator, fill the tank and drive on. However, if the triangle warning light is accompanied by another warning light or symbol, such as an exclamation point, it could indicate a more severe problem. In this case, it's best to take the car to a qualified mechanic or Mini Cooper dealership for diagnosis and repair.
Tips for Maintaining Your Mini Cooper
Keep an eye on your oil level and change it regularly.
Check your coolant level and top it off as needed.
Inspect your tires frequently and keep them inflated to the proper pressure.
Get your Mini Cooper serviced regularly according to the manufacturer's schedule.
Pay attention to any warning lights in your vehicle, especially the Mini Cooper triangle warning light symbols. These can indicate a severe problem that needs to be addressed right away.
We hope this article has helped you understand the meaning of the various Mini Cooper triangle warning light symbols. It is essential to know what each character means so that you can take the appropriate action when one appears on your dashboard. If you are ever in doubt, consult your owner's manual or contact a qualified mechanic for assistance.
FAQs About Mini Cooper Triangle Warning Light Symbols
What does the triangle with an exclamation point mean in a Mini Cooper?
This triangle with an exclamation mark signals that the Automatic Stability Control (ASC) is turned off. When in this state, the vehicle may be more susceptible to the risk of losing traction and control on slippery surfaces. Therefore, turning ASC back on for safety reasons when driving is recommended.
What does a triangle with a snowflake mean on a Mini Cooper?
The BMW Mini outside temperature warning light (snowflake inside a triangle) illuminates when the temperature falls to around +3C / 37F. When this occurs, a signal will sound, and the warning light will be activated to alert drivers of an increased risk of sheet ice on the roads. In these conditions, it is recommended that extra caution is taken while driving.
What does the warning light with the triangle and exclamation point mean?
The third-person narrative indicator is a warning signal that informs the user of potential problems with their vehicle. A triangle symbol with an exclamation point represents it. When illuminated, it indicates the need for immediate action to prevent further damage or disruption of service. Although this sign does not explicitly indicate the problem, its presence should still be considered a severe indication of trouble ahead.
What does the yellow warning light mean on a Mini Cooper?
The MINI Cooper's Yellow engine warning light signals the driver that attention is needed for the vehicle's emission system. In cases of engine misfiring, this light will instead flash to alert the driver. As the tire pressure monitor indicates, a yellow light will also turn on when one or more tires have low pressure.