Want to know what Windshield Brands to avoid? Windshields are essential for a car's safety and durability. Protecting the passengers and vehicle interior from debris and weather conditions would be difficult without them. Unfortunately, windshields can become compromised over time or due to an accident, making replacement necessary. This can be expensive, but getting the best value for your money is possible when you know what Windshield brands to avoid.
This article provides a list of lousy windshield brands as well as bonus information about alternative options that may better suit your needs without breaking the bank. Research has been conducted in order to provide consumers with reliable information so they can make informed decisions when shopping for new windshields.
Is There Different Quality Of Windshields?
Windshields are an essential component to consider when looking for a new car. It is beneficial to know the various types of windshield glass available in order to make an informed decision.
Rather than inquiring about which type of windshield is best, it should be noted that there are three varieties of windshield glass from which one can choose.
Dealer glass: The glasses purchased from the dealers are of good quality, as they come from an authorized manufacturer. These eyeglasses have been designed with care and precision to ensure superior quality.
Aftermarket windshields: The glasses are created by third-party manufacturers without direct connection to the car-makers. Despite their efforts to precisely replicate the specifications, not all production elements are strictly observed.
Original Equipment Manufacturer (OEM) glass: Original manufacturers have crafted the glass to the same standards as those used for vehicles, ensuring the quality is consistent with dealer glass. Adhering to strict regulations, these manufacturers are trusted sources of quality materials.
The OEM and dealer glasses are essentially identical in composition. Aftermarket alternatives may not always be of similar quality.
Why Does The Glass Quality Matter?
Aftermarket windshields are often seen as inferior to OEM models. However, they can be just as good. The term 'OEE' (Original Equipment Equivalent) is the benchmark used to compare aftermarket and original equipment parts against each other. Though not always meeting the same quality standards put forth by the manufacturer, aftermarket windshields still meet mandated safety requirements set forth by government agencies such as the Department of Transportation.
The primary advantage of aftermarket windshields is cost savings compared to an OEM model, which typically has a higher price tag due mainly to their advanced features, such as ADAS technology. However, these features should only be purchased through authorized dealers who offer both Original Equipment Manufacturer warranties and insurance coverage for extra protection.
Which Windshields Brands To Avoid?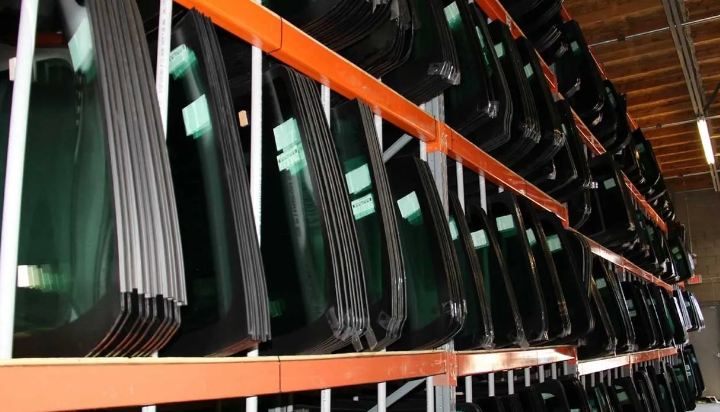 There are a few brands that you should never use. These are written below:
Aftermarket Glasse Brands – Durasafe, Safex, Benson: It is important to note that these glasses may not comply with the original manufacturer's standards, and can have issues such as air or water leakage, cracks, poor fitting, and optical quality. Furthermore, it has been observed that their structure cannot be trusted at high speeds due to cracking.
Safelite: Safelite has been known to produce expensive windshields of poor quality. As such, consumers should be wary when deciding upon a company for their automobile glass needs. Safelite currently outsources its production to Tru-Tech; however, not all Tru-Tech's windshields are wrong, as the ones from Fuyao have been found to be of higher quality than Xinyi's. Thus there is a fifty percent chance that one can get a good product with Safelite.
Auto Glass Now: The windshields are produced using cheap and short-lasting glasses. In addition, their installation process is somewhat inadequate, as even the most minor of accidents can easily damage them.
PPG/PGW: The production of original and aftermarket windshields has become a reality for this company. Previously, they were solely focused on the manufacture of OEM windshields.
Despite being somewhat more reliable than Safelite's products, they come at a higher price.
Best Alternatives To The Avoidable Windshields Brands
Better alternatives for avoidable windshield brands are presented here:
Pilkington: The Pilkington company is renowned for its patent-holding of float glass. Boasting superior optical clarity and flatter surfaces than other glasses, the product has become a mainstay in OEM/dealer and aftermarket applications across Europe, Japan, Asia, North America, South America, and beyond. Its wide availability makes it an indispensable part of many industries.
Carlite: They are renowned for their unbeatable value compared to other online stores. Their glasses offer two layers of protection as well as top-level UV ray defense.
Aspen: These windshields are excellent and reliable. They demonstrate a degree of resilience against breaking easily.
Which One is the Best?
Pilkington is considered the best choice among the aforementioned brands.
Are Safelite Windshields As Good As OEM?
Safelite glasses are not of the highest quality and do not have the same level of reliability as their Original Equipment Manufacturer counterparts. Furthermore, they sometimes utilize Chinese-made glass in their windshields, compromising the overall quality and reliability.
Do You Need To Change The Windshield?
It is known that a windshield can be changed in an accident resulting in cracks. However, if the quality is not up to par, cracks may occur too often in chronic cases. Changing the windshield within five years would be wise to avoid this situation for the best results.
Final Words
It is essential to recognize the importance of windshields and the responsibility associated with investing in them. Taking care to ensure that they are up-to-date and functioning properly can save time, money, and even lives. This article exemplifies the necessity of researching a good investment option.