All information about Chrysler Pacifica dashboard warning lights and their meanings is presented to you on this page. After giving some information about the vehicle, we will show you the whole list. Chrysler Pacifica, which falls into the minibus category, is a very popular vehicle used by many people.
Chrysler Pacifica has a v6 engine and a high safety score. Because it seats eight people, it is the choice of many families. Its interior design and spaciousness is one of the reasons for preference, especially in the USA region. We will give you more information about Chrysler Pacifica dashboard warning lights.
First of all, you should know the color definitions well along with the warning lights on the list. These color definitions, which are examined in 5 categories in total, will give you an idea about the malfunction at first glance. Let's explain the color definitions of Chrysler Pacifica dashboard warning lights.
See also: chrysler 200 dash lights
Chrysler Pacifica Dashboard Warning Lights Color Descriptions
There are 5 basic colors and 1 sub-color when it comes to Chrysler Pacifica dashboard warning lights color definitions. If you receive a warning of red, orange, and yellow color, this indicates an important malfunction that you need to fix in a short time.
However, if you receive a fault in blue and green, these are considered important but can be fixed later. Of course, all of these faults are faults whose importance level increases according to the conditions you are in. Finally, there is a general malfunction sign in white color.
This is a color identification that usually represents minor malfunctions. You can review all the characters you see on your vehicle about Chrysler Pacifica dashboard warning lights and their meanings from the list below.
See also: Chrysler dashboard warning lights
Chrysler Pacifica Warning Lights: Seat Belt Reminder

If the driver or passenger is not wearing the seat belt, the seat belt warning light comes on with an audible warning. It is not recommended to continue driving with this light on. Do not drive without wearing your seat belt.

Chrysler Pacifica Airbag Warning Light

Your vehicle's airbag will inform you of a problem with the electrical system. In this case, you should call the service center and ask them to troubleshoot the problem. The airbags will not work in an accident when this light is on.

Chrysler Pacifica Parking Brake System Malfunction Warning Light

Check your vehicle's parking brake and turn it on if it is off. Sometimes, this warning light will also come on when the parking brake is not working properly. We recommend that you contact an experienced mechanic to resolve the problem. Brakes are a critical safety feature for your vehicle and should not be neglected.

Chrysler Pacifica Warning Lights: ABS Brake System 

It is common for new generation vehicles to use the ABS braking system. If this malfunction sign is illuminated, it means that your car is using an older generation brake system, which is not safe. You need to solve this problem for your vehicle with an abnormal brake system. Contacting the service center would be the right choice.

Chrysler Pacifica Electronic Stability Control System Warning Light

The system that ensures the stability of your vehicle is called ESC. With this definition, which is referred to as the electronic stability control system, the car holds on to the road in bends and turns. This allows you to travel safely. However, if the ESC light comes on while driving, you should understand that this system has a problem. We recommend that you contact the service center to solve the problem.

Chrysler Pacifica Dashboard Warning Lights: Tire Pressure 

Vehicle tire pressures vary in hot and cold weather. You should periodically check and repair a tire that has changed pressure. Set the tire pressures to the factory recommended settings to fix the problem. The light will go out if you save the new locations on the multimedia in the vehicle.

Chrysler Pacifica Dashboard Warning Lights : Steering Malfunction

New generation vehicles use a hydraulic steering system. This steering system is easy to use because it is electric. However, if your power steering light comes on, you can understand that the system is not activated and there is a malfunction. To fix the problem, we recommend that you contact an experienced mechanic who understands the steering box.

Chrysler Pacifica General Engine Malfunction Warning Light

If an unidentified fault is found in the engine compartment of your vehicle, your general engine fault warning light will come on. You should contact the service center to determine which malfunction is in the engine compartment. The fault will be detected and repaired in the computer environment. It is generally considered to be an important malfunction.

Chrysler Pacifica Dashboard Warning Lights : Turn Signals

These are warning signs that indicate when you are signaling left or right. However, if the warning light for turn signals flashes rapidly, this tells you that the light for the side you are signaling is not working. In this case, you should change the bulb.
Chrysler Pacifica Dashboard Warning Lights Problems
We have conveyed all the information about Chrysler Pacifica dashboard warning lights and their meanings. You should not neglect the problems to fix the issues experienced in your vehicle. If you cannot find the solution to the problem you are sharing on this page, you can get support from other users and us by commenting. We will always be happy to help you and troubleshoot your problems.
See also: chrysler town and country dashboard symbols
FAQs About Chrysler Pacifica
What does a mean on the dashboard of a Chrysler Pacifica?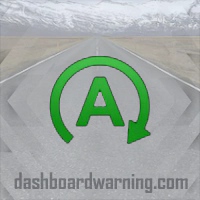 Refers to the automatic start-stop warning light. You can suspect the automated start-stop system if the symbol shows an arrow with the letter "A" in the center. The Chrysler automatic start-stop warning light does not always identify a malfunction. If the light is green, it means that the system is activated; if it is yellow or orange, it means the system is faulty.
What are the most common problems with a Chrysler Pacifica?
The most common problems with Chrysler Pacifica vehicles are the following;
Paint Peeling And Rusting
Transmission Problems
Faulty Seat Features
Illuminated Check Engine Light Due to Carbon Buildup
Engine Noise Due to Damaged Retaining Pin
Faulty Air-Conditioning (A/C)
Are Chrysler pacificas good cars?
The Chrysler Pacifica ranks near the top of the minivan class, beating the competition in terms of features and a safe, fuel-efficient V6 powertrain. However, it ranks lower on predicted reliability.
Why was the Pacifica discontinued?
The Pacifica was discontinued after model year 2005 because consumers just weren't buying it. Chrysler expected to sell about 100,000 units a year, but the peak production year of 2004 was a distant memory by then.
Which is better Sienna or Pacifica?
Of the two minivans on the market, which one is better? Although both are very reliable and have good safety ratings, the 2021 Chrysler Pacifica has higher ratings in a number of categories. It's an expensive vehicle, but comes with features like a luxurious interior and advanced safety technology that the Toyota Sienna doesn't have.
See more: Toyota Sienna Master Warning Light
Which is better Pacifica or Odyssey?
The 2022 Chrysler Pacifica is the best family car on the market. The competition is catching up, but the Honda Odyssey has a limited number of standard safety features and base model.
See more: Honda Odyssey warning lights
Which Chrysler Pacifica model year should be avoided?
One should steer clear of the 2017 Chrysler Pacifica. It's marked by over 1,000 NHTSA complaints and has been subjected to nine recalls, according to CarComplaints. This particular model year is a definite no-go due to its extensive array of severe mechanical problems, with the troublesome transmission being one of the most critical issues.
Is reliability a feature of the Chrysler Pacifica?
A predicted reliability score of 67 out of 100 is attributed to the 2023 Chrysler Pacifica. Scores ranging from 91-100 by J.D. Power are deemed the Best, those between 81-90 are Great, 70-80 are Average, and scores between 0-69 are considered Fair and below average.
What kinds of complaints have been raised about the Pacifica?
The Pacifica has received a variety of complaints, including a 1 out of 5 stars rating due to a Chirping Noise issue and being an unreliable car/company, as stated by D Vora on 04/15/2021. Other complaints include unreliability for a brand-new car, with a 2 out of 5 stars rating, and a 1 out of 5 stars rating advising never to buy the 2021 Chrysler Pacifica Hybrid. However, some acknowledge that first-year models are always buggy, giving it a 3 out of 5 stars rating, and others question the trouble with the transmission dial, rating it 4 out of 5 stars.
What seems to be the issue with the 2023 Chrysler Pacifica?
The problem with the 2023 Pacifica Hybrid is linked to a recall and is due to a faulty wiring connector located within the vehicle's transmission. This defective connector can lead to a short circuit, resulting in the vehicle stalling or the engine shutting off.
You can learn how to turn on the dashboard lights in Chrysler Pacifica vehicles from the video below.