Hybrid cars have become increasingly popular in recent years for their fuel efficiency, but just like any other vehicle, they still need to be taken care of properly. A flashing hybrid system warning light is never a good sign and can indicate that something is wrong with the car's electrical system or mechanical components. Fortunately, many KIA Optima hybrid owners who have experienced this issue have been able to resolve it successfully and continue owning their cars for years afterwards.
This article will provide useful information on what causes a hybrid system warning light to flash and how you can go about solving the problem. It will cover all potential difficulties that could lead to such an issue including any possible damages caused by incorrect maintenance practices or faulty hardware components. With these tips in mind, readers should feel more confident when faced with the challenge of dealing with a malfunctioning hybrid system warning light on their KIA Optima vehicle.
See also: Kia Optima Dashboard Warning Lights
Symptoms Indicating KIA Optima Hybrid System Failure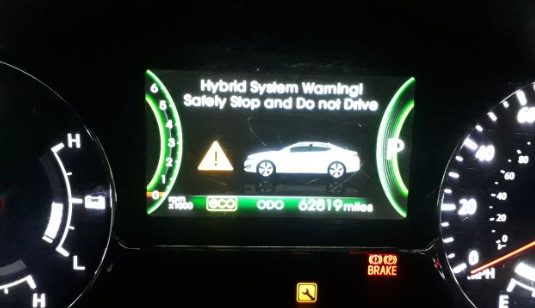 Kia Hybrid vehicles have been marketed in the United States since 2011, but their hybrid technology has proven unreliable in many cases. Owners of these vehicles frequently encounter a 'Check Brake System' and/or 'Check Hybrid System' warning light while driving on the highway. In some severe cases, the vehicle shuts down completely with only steering remaining operational.
The symptoms of this "Check Hybrid System" alert are:
Reduced speed and acceleration as the hybrid technology ceases to work and gasoline is used for propulsion instead;
Reduced fuel efficiency;
The car entering limp mode where no acceleration or braking is possible;
Numerous other engine problems that can quickly lead to dangerous situations if not addressed by a qualified mechanic immediately upon detection .
See also: Kia Soul Dashboard Warning Lights
Causes of KIA Optima Hybrid System Warning Light Flashing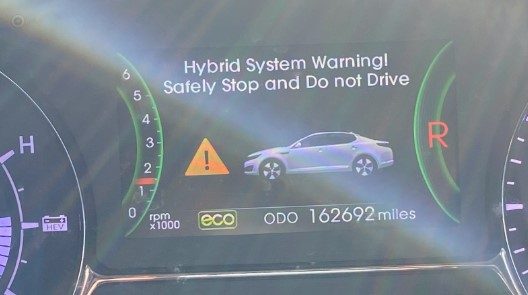 The "Check Hybrid System" warning light is one of the most common indicators to appear in KIA Optima Hybrid vehicles. When this warning light appears, it means that there could be an issue with the hybrid system within your car. The software will attempt to identify any potential problems and then flash a warning if necessary.
It is important to take your car directly to a licensed dealership or professional mechanic if you experience this warning light on your dashboard. This allows them to diagnose the problem so they can determine what needs to be done next. If a red light appears, you should get the issue fixed immediately as this indicates a more serious problem with the hybrid system.
There are several causes why this might happen including issues such as low battery charge or failing sensors within your vehicle's systems which could interfere with its optimal functioning. As such, it is essential that motorists pay attention when their cars display these warnings and not ignore them for safety reasons since doing so may lead to further complications down the line.
See also: Kia Sorento Warning Lights Symbols
Hybrid System May Have Blown a Fuse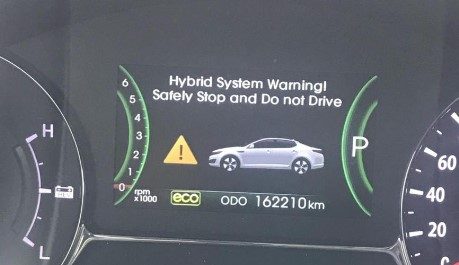 If you are driving your KIA Optima hybrid and the hybrid check light illuminates, it is important to pull over to a safe location as soon as possible. Turning off the vehicle and letting it sit for five minutes before restarting can often reset any system errors that may have caused the warning light to flash. Most of the time, this will be nothing more than a mistake from within the system itself.
However, if after resetting the car, the warning light continues to remain on, then you should check for blown or damaged fuses in both fuse boxes – one under hood and another on dashboard. The batteries will not turn on if there is an issue with either of these two components so inspecting them carefully is essential. Fortunately, replacing a fuse is usually straightforward and can be done easily by a technician using OEM parts for best results.
It is recommended that drivers familiarize themselves with their KIA's fuse box locations as well as how to identify whether or not they need replacement since this process only takes minutes but could help avoid potential problems with their cars' hybrid systems down the road.
See also: Kia Soul Dashboard Warning Lights
KIA Optima Hybrid System May Be Experiencing Battery Cell Failure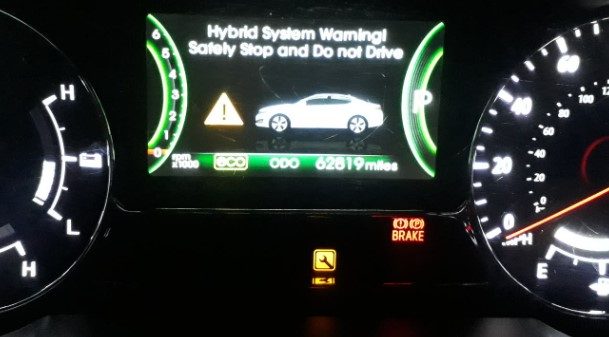 The hybrid system warning is triggered when the condition of the battery charge changes rapidly. This could be a sign that one of the cells in the battery pack is defective, leading to premature failure over time. Most manufacturers claim that their hybrid batteries will last around 100,000 miles with proper care and repair, although some reports suggest that up to 200,000 miles can be achieved if well-maintained.
Imbalanced cells are another common cause for early degradation of a hybrid vehicle's battery. If not all of the 28 individual batteries in a car such as Prius are performing equally at 6500mAh or higher then this can lead to rapid loss in capacity – potentially down to 1500mAh or lower on certain cells. Fortunately, your mechanic may be able detect and fix any cell issues quickly before they become more serious problems.
Regular maintenance checks on both engine performance and battery health can help ensure optimal performance from both parts of your car; less strain put on an electrical motor means fewer demands placed on its power source – namely, your battery! In addition, if needed there are specialist auto service companies who have experience working with hybrids who may also recalibrate a failing battery back up to 97 percent of its original strength – saving you money against replacing it entirely!
In conclusion then while having a reliable and efficient hybrid vehicle requires regular upkeep by either yourself or professional mechanics it's worth considering investing time into maintaining these aspects rather than face larger repair bills further down the line due to faulty batteries or other components caused by neglecting them now!
See also: Kia Cadenza Dashboard Warning Lights
KIA Optima Hybrid System May Be Experiencing Inverter Failure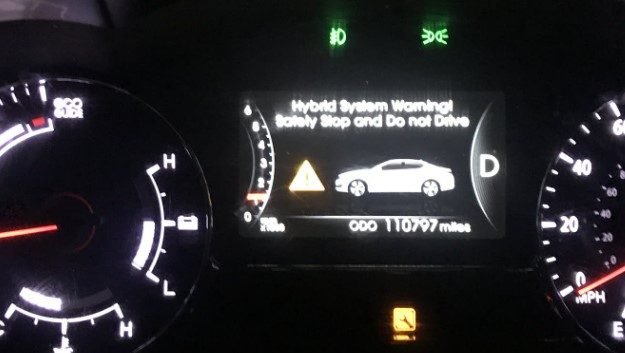 The presence of an inverter in a battery-powered system is essential for the conversion of DC energy into AC energy. If the inverter should fail, then the hybrid system may be unable to function and generate a warning alert. It could be possible that this problem is caused by a faulty cooling system resulting in overheating of the hybrid system. To prevent such issues from reoccurring, drivers are advised to address any potential faults with their inverters as soon as possible.
The solution to avoid overheating lies within ensuring that the cooling system is maintained effectively. Having an auxiliary battery will help keep your battery cool and operational throughout its lifetime. It's important to regularly clean off any oil residue which covers fan blades and dust which attaches itself onto it; otherwise, it can potentially block airflow leading towards your battery causing further issues down the line
Troubleshooting KIA Optima Hybrid System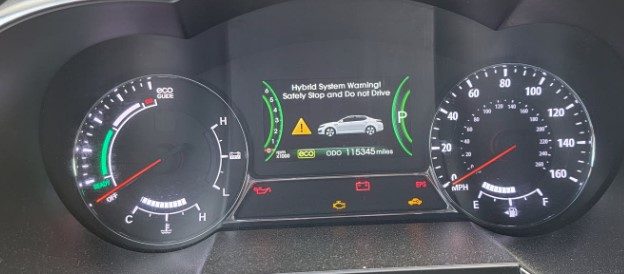 When a Kia Optima hybrid system warning light is triggered, the basic solution is to reset the system. To do this, switch off the car and wait for a few moments before turning it back on again. This can often resolve any issues and cause the warning light to go away. If this does not fix things, then using a code reader may be necessary in order to identify exactly which issue has caused the problem. Code readers are reasonably priced tools that all car owners should have access to in case of such an event occurring. Additionally, checking fuses for defects or blow-outs can also help resolve minor problems that might trigger the warning lights in some cases; if needed they should be changed by either yourself or with assistance from a professional mechanic.
Is it Safe to Drive with the Hybrid System Warning Light on?
Driving an automobile with a warning light illuminated is permitted, but not recommended. The warning light indicates that there is a component failure and continued use of the vehicle can cause further damage. It's best to take your car to a repair shop so they can accurately diagnose the code or other issue causing the warning light to turn on.
How to Extend the Life of KIA Optima Hybrid System?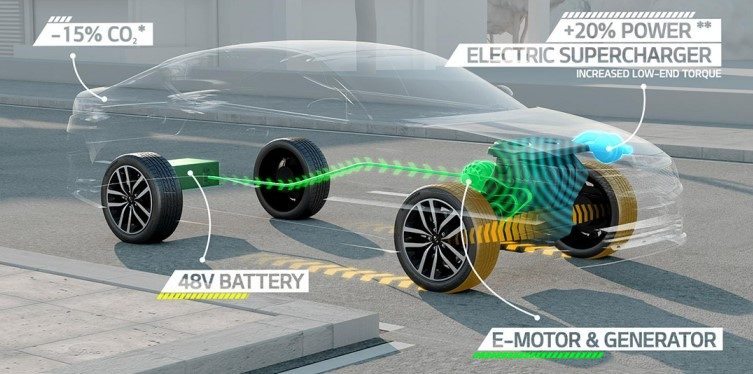 When driving a Kia Optima hybrid system vehicle, the driver may receive warning signals alerting them of an issue with the component. It is important for drivers to take these warnings seriously and come to a safe stop as soon as possible. If this condition persists, it can lead to further damage in the car that could cost more money and time for repairs.
The best course of action to take when receiving such warnings is to visit your local technician and run any error codes from the car's computer in order to identify what caused the light indicator on your dashboard. Depending on one's expertise level, this problem can be diagnosed by oneself or by consulting a professional mechanic.
See also: 2024 Kia Forte Interior and Exterior, Safety and Price
In addition, while running diagnostics on their systems it is essential that drivers check all safety features like Anti-Lock Brakes (ABS) and SRS airbags are working correctly every time they start their journey—if not, then immediate attention should be given in order for them operate properly again.
Failure to maintain one's gas/electric hybrid cars will ultimately result in increased fuel consumption which defeats its purpose of providing better mileage than traditional gasoline engines; therefore regular maintenance checks should be conducted periodically so as not incur additional costs due delayed repairs or replacements down the line.
If you are experiencing a warning light on your Kia Optima Hybrid System, please carefully read this article we have prepared for you for step-by-step instructions on how to troubleshoot the problem safely and efficiently. We hope this guide has helped you resolve the issue and kept you safe on the road. Feel free to contact our team if you have any further questions.