At the start of the new millennium, Jeep customers were presented with a modern transmission option: NV3550. This contemporary take on an old classic – Aisin AX15 transmission – had smoother shifting and was powerful enough to handle any needs. Despite this, many people may prefer the convenience and affordability of the AX15 over the NV3550 due to its 5-speed manual gearbox.
Therefore, it is necessary to compare both options when deciding what's best for each driver. When comparing Nv3550 Vs. Ax15 transmissions, factors such as cost-effectiveness and convenience should be considered along with their ability to handle power demands efficiently to make an informed decision.
Comparison Between Nv3550 Vs. Ax15
Before delving into a more thorough evaluation, comparing and contrasting the differences and similarities between the two options is essential.
| | |
| --- | --- |
| Nv3550 | Ax15 |
| Years in usage:- 2000-2004 | 1988-1999 |
| Length: 16.7" | Length: 16.5" |
| Models:- XJ, TJ | XJ, YJ, MJ, ZJ, TJ, |
| Weight:- 97 lbs | 110 lbs |
| Torque capacity:- 300 lb-ft | 300 lb-ft |
| Case:- Cast aluminum | With an aluminum mid-plate and cast aluminum case |
| Input:- 10 Spline – 1.125″ | 10 Spline – 1.125″ |
| Output:- 23 Spline, Flush | 23 Spline, 1/2″ Out |
| Transmission:-  five-speed | Transmission:-  five-speed |
| Price higher than AX15 | Price lower than NV3550 |
Nv3550 Vs Ax15: In-Depth Overview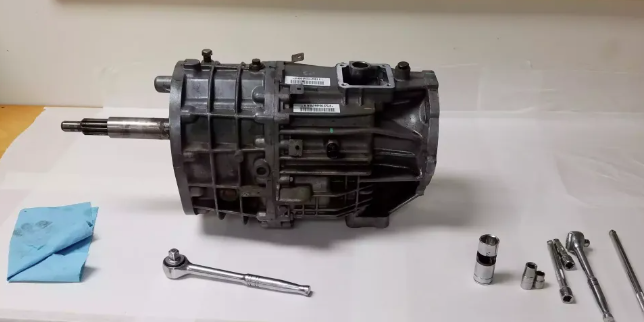 An in-depth examination of their differences and similarities will be conducted following a brief comparison.
Identification
This transmission has a heavy-duty cast aluminum case that measures 16.7″ long, featuring great ribs. When attached to the Jeep-I6 bell housing, the total measures 23.1″ long and utilizes dowel pins for precise alignment of the bell housing. The front end also features oval-shaped bolt patterns and an integral throwout sleeve to accept conventional throwout bearings.
The AX15 4WD transmission case is 16-1/2″ and made from cast aluminum, including its mid plate, which is also constructed from aluminum material. It has to rib on its shifter located at the rear section of the assembly for extra strength and durability while providing smooth operation when shifting gears. An included 23-spline output shaft extends slightly beyond half an inch past the body, allowing it to connect to a transfer case output shaft without any issue or difficulty.
Compatibility Of Transfer Cases
Transfer cases like the Jeep 3550 are necessary for off-road vehicles. Two transfer case options were available: the NP231 and the NP241OR. The NP231 model has a 23-spline driving shaft that is compatible with this Jeep model. Furthermore, the AX15 transfer case can be adapted to this vehicle using Novak kit-153 on both sides of the drop, allowing further customization options. Finally, to use an NP207 transfer case on this vehicle, its input shaft must be shortened to 2.1" in length using lathing or sawing processes.
Vehicles Applications
New Venture Gear developed the NV3550 to replace the AX15, which was introduced by Aisin in 1988. This manual transmission appeared in several Jeep models, such as the TJ Wrangler, XJ Cherokee, and ZJ Grand Cherokee models of the 2000s. Dodge Dakotas were also available with this transmission. However, as opposed to the AX15, it had a much shorter life span before being replaced by a newer model (about 4 years). It resembles another manual transmission – R154 – used on Toyota's third-generation Supra Turbo.
Years & Models
The NV3550 is designed to provide drivers with an enhanced driving experience. This model features a 10-spline input shaft that is 1-1/8″ in diameter, while some Jeeps produced from late 2004 have 19 splines and 1″ diameter. Additionally, the output shaft of this model consists of 23 splines, and its adapter's rear face is flush with the post itself.
Furthermore, until 1993, models were equipped with AX15 integrated into their slave/throwout assembly, whereas, after 1994, conventional methods such as using slave cylinders and cross-arms were used. Moreover, it has a stick-out length of 7-1/2″, demonstrating how well-constructed this transmission system is for those seeking improved performance on the road.
Transmission
The NV3550 is a 5-speed transmission with a direct drive gear in the 4th and an overdrive gear in the fifth. It is fully synchronized with helical gear cuts and designed for 2WD and 4WD vehicles. The AX15 5-speed transmission shares many design features with its predecessor – a direct-drive fourth gear and an overdrive fifth gear. Like the NV3550, this transmission uses helical cut gears in 2WD & 4WD configurations. Produced from 1988 to 2000, the AX15 remains popular due to its durable construction and reliable performance.
Ratio Of Gears
The AX15 and NV3550 transmissions differ in their first gear ratio, with the AX15 boasting a 3.83 while the NV3550 holds a 4.01. This higher gear ratio on the NV3550 makes it an ideal offroad transmission, providing greater torque and performance when navigating rugged terrain or climbing hills.
NV3550 Gear Ratios:
1st= 4.01
2nd= 2.33
3rd= 1.39
4th= 1.00
5th= 0.78
R= 3.57
AX15 Gear Ratios:
1st= 3.83
2nd= 2.33
3rd= 1.44
4th= 1.00
5th= 0.79
R= 4.22
Nv3550 Vs. Ax15: Which Works Best?
When comparing the NV3550 and AX15, there are a few key differences. The AX15 is an older design, which makes it significantly more affordable than its newer counterpart. Additionally, the duration of production for these two transmissions differs significantly; the AX15 was produced over a longer period, making it easier to find in junkyards. Despite this difference, both messages offer excellent performance, so whichever you choose should suit your needs.