What will the Ford F-250 Super Duty 2023 look like with its new design? Last year, the F-250 interior style was updated and redesigned by Ford. So, redesigning the 2023 model F-250 exterior is a good idea and interesting. This vehicle also includes optional packages, and the new model has various interior improvements. You should wait for the 2023 Super Duty range with new updates and a new look. The 2023 Ford Super Duty is expected to be released on October 17, 2022. But for accurate information, waiting for the official announcement is necessary.
See also: 2028 Lamborghini Electric Crossover
What About the 2023 F-250 Model?
As mentioned earlier, the 2023 F-250 Super Duty model will be updated. The new update includes visual improvements, new exterior features, and different paint on the exterior. The purpose of this new design is to add extra equipment and extra features. So, the F-250 2023 will be more competitive. The 2023 Super Duty will have better towing characteristics, more equipment, and a higher level of safety.
See also: No Pressure In Radiator Hose: 5 Causes and Solutions
2023 Ford F-250 Super Duty Exterior Appearance and Features
The F-250 Super Duty is updated every 5 years. This means that the 2023 model will be the next-generation model. The new model is an updated vehicle and redesigned, which is excellent and very interesting. The 2023 F-250 will have a new Lariat Sport Appearance Package that differs from the previous series Super Duty and includes black platform exit panels, exterior mirrors and grille, chrome exhaust tips, and bumpers identical to the body color.
👀Look at this: 2023 Chevy Silverado 2500 Test Drive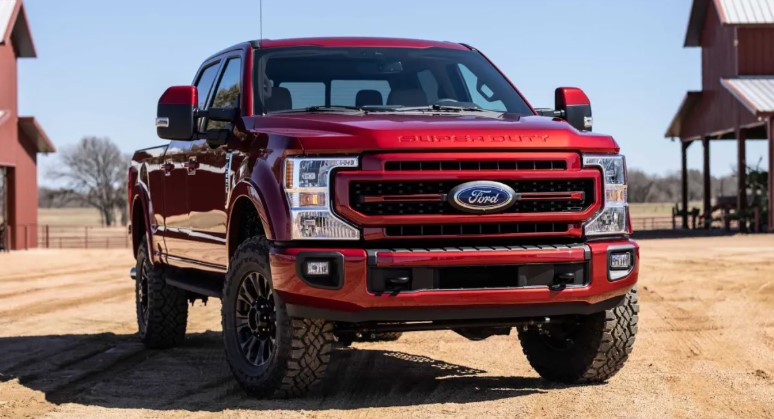 The design will look great with 20-inch Ebony Premium wheels painted in black, front and rear bumpers, body color, grille bars, and 6-inch Ebony Black skids. This Black Appearance Package is available on XLT models. Light Slade interior colors and the interior color palette Baja and Navy Pier are available. Atlas Blue is a new addition to the exterior color palette.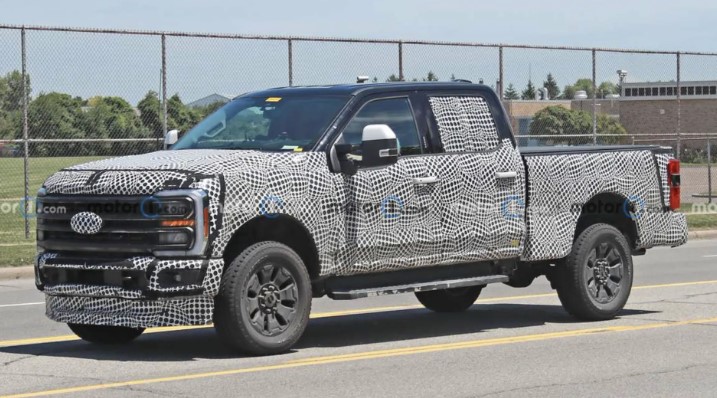 It is not yet clear what the exterior looks like, but it is presumed to have been inspired by the F-150. So you can expect new taillights, a new grille, safer bumpers, and modern LED headlights. Typical color ranges will be Gray Lithium, Blue Antimatter, and Gray Carbonized. At the same time, the 2023 Super Duty colors will also have options from the 2022 series.
See also: Chevrolet Cruze Dashboard Warning Lights, Symbols and Meanings
2023 F-250 Interior Cabin Features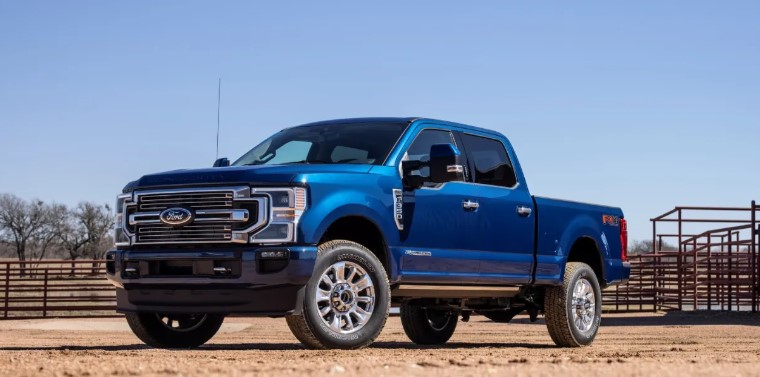 Along with the 2023 Super Duty exterior update, changes are expected in the interior cabin features. The most important change will be the horizontal 12.0-inch touchscreen. For the Lariat trim level, Baja is preferable with its new shade. The Limited trim will be available in Navy Pier and Light Slate colors. Surprise extra luxuries can also be added.
See also: Ford C-Max Engine Malfunction Warning Light Reset
2023 Super Duty Engine and Options
The 2023 Super Duty engine specifications will resemble the 2022 Super Duty. However, with the expected updates, the new model Super Duty will come with a gas V8 unit with a capacity of 7.3 liters, considered standard. The V8 unit is the most powerful gas, especially in heavy-duty and industry sectors. Therefore, the new F-250 model will have a robust performance. The V8 unit can produce 430 hp and 475 Nm of torque.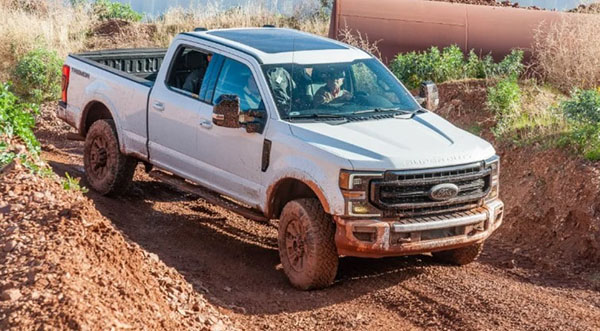 Those who want more towing capability can choose the optional Turbo Diesel Unit.
See also: Kioti Tractor Warning Lights
FAQs About 2023 Ford F-250 Super Duty
Is Ford changing the Super Duty in 2023?
At the Kentucky Truck Plant, the all-new Ford F-Series Super Duty is proudly assembled in Louisville, Kentucky. In addition to Louisville, Ohio, the Assembly Plant produces the Super Duty in Avon Lake, Ohio. The truck will be available in early 2023, and select features and trim series will arrive in Spring 2023.
Will the 2023 F250 be redesigned?
The redesigned 2019 Ford Super Duty is sportier and more powerful than before. You'll love the fresh style, updated powertrain, new technology, and enhanced features like the advanced infotainment system. The F-250, F-350, and F-450 will still be primarily heavy-duty workhorses intended for tough jobs, but motor geeks will appreciate the range of customizations that can be made to these models as well.
What's new for the 2023 Super Duty?
One of the most exciting new features of the 2023 Ford pickup truck is its all-new diesel engine. But that's not all. There are several other changes to the car this year as well. The 7.3-liter V-8 gets a tuned air intake and an updated tune, and there's also a brand new 6.7-liter Power Stroke V-8 diesel engine for those who want to go green on their trips down the freeway!
When can I buy a 2023 F250?
There is currently no date set for the opening of Ford Super Duty order banks, but some sources say they may open on October 17th, 2022.
How much will the 2023 Super Duty Cost?
The base price of the new Super Duty is expected to start around $42,000, with destination charges included. This will consist of the basic XL trim options. The Lariat trim, which comes with a few additional features such as an 8-way power-adjustable driver's seat and premium leather upholstery, is priced at roughly $6K more. Other trims include the King Ranch, Platinum, and Limited editions. With so many options available for the Super Duty, the well-equipped Limited edition could cost nearly $100,000 in total!
How much horsepower does a 2023 Super Duty have?
Chevy has recently announced that their 2020 Corvette will come with a 6.8-liter gas V-8 and produce 405 horsepower and 445 pounds-feet of torque. You'll also be able to get your hands on the 7.3-liter "Godzilla" gas V-8 upgrade, which makes 430 horsepower and 485 pounds-feet of torque. This is an increase of 10 pounds-feet from the previous engine's 422 horsepower and 465 pounds-feet.
What is the mpg for a Ford F250 diesel?
At 13.46 miles per gallon, the 2021 Ford F-250 Super Duty is more fuel-efficient than most vehicles. It has relatively low emissions, too, so it won't necessarily cause many health problems for you and your passengers.
What years of F250 to avoid?
Due to various factors such as model, age, and mileage, certain Ford F-250 years should be avoided. 2002, 2006, 2008, 2011, and 2017 models are known for having the highest rate of reported issues from consumers.