We will tell you about the lane keeping assist system warning sign complained about by many people in Acura vehicles. Acura lkas Warning Light is a multi-purpose feature that everyone should know what it does. The lkas system in many Acura vehicles allows you to drive safely. We have seen that some people know wrong and cannot use the system. We will give you all the details about Acura Lane Keeping Assist System.
See also: acura rdx all warning lights on
Before we start, Acura lkas warning light appears on the dashboard in 2 different ways depending on your vehicle model.
First: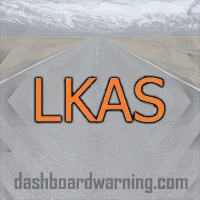 Second: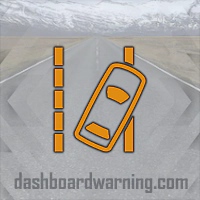 Both warning signs are related to Lane keeping assist system.
What Is The Acura lkas Warning Light?
The Acura Lane Keeping Assist System allows you to return to your lane when you drift. This is a technology that prevents a crash. Its working logic is quite simple. It uses the road lines to ensure that your vehicle follows the road on the lane. In some Acura vehicles, this system is equipped with features that allow you to swerve off the road.

When driving your car, you should always be aware of your surroundings and the nearby lane. However, if you get distracted and drift out of your lane, you will see the Acura lkas Warning Light on the dashboard. Your seat and steering wheel vibrate with the warning light. This means you have left your lane. If you don't respond in time, the Acura lane keeping assist system will gently guide you back to the center of the lane.
See also: Acura dashboad warning lights
How to use Acura Lane Keeping Assist System?

Acura Lane Keeping Assist System needs painted lane markings to work. Lane keeping assist is not suitable for use on roads that are uneven, faded, paved, or in need of maintenance. Such use is always dangerous. In some Acura vehicles, the sensors identify that the road is unsuitable for help and do not activate the system. You think that this system is not working and malfunctioning. Acura lkas Warning Light may light up for this reason. If there is no problem and your warning light comes on, you can start looking for the solution by ensuring the road is smooth.
See also: acura tl dashboard lights meaning

The Acura Lane keeping assist system will also not work properly on leafy, foggy, and snowy roads. The sensors in the vehicle cannot track the lanes on the street in such weather conditions and will mislead you.
If you turn the steering wheel while the lane keeping assist system is activated, this feature is automatically deactivated.
If you want to safely use the lane keeping assist system, you should heed the above warnings. You can safely use the Acura lane keeping assist system if you are on a clear road and your attention is enough to control the traffic and the road around you. That's all you need to know about Acura lkas Warning Light.
See also: Acura MDX warning lights
What does it mean when LKAS light comes on?
The lane keeping system needs to know the direction that the vehicle is turning in order for the system to operate. Without a turn signal, it can only detect lane drift at speeds of 32 mph or slower. Vibrations on the steering wheel and a warning display will alert you of lane drift until torque is applied to the steering to ensure that you stay in safe driving distances between your lanes.
What does LKAS mean on my Acura?
Lane Keeping Assist System (LKAS)38 can use its radar and camera technology to help alert drivers when they drift off the highway lane, helping reduce driving fatigue.
What is ACC light on Acura?
The Yuma Multi-Device Throttle Control helps keep your speed constant and a set following distance behind the vehicle ahead of you no matter what the terrain is like. The device will automatically throttle when you need to in order to maintain this range, simplifying its control and allowing more focus on the road.
How do you turn off LKAS in Acura?
Turning LKAS On/OFF
LKAS appears at the center of the MID (MID) when you press the MAIN button on the steering wheel.
When the LKAS system is in operation, dotted lane lines will appear on the map, making it easier to navigate while driving.
Press "MAIN" or the "LKAS" button to turn the system off.